The FreyGen ALF incubator is designed to protect IVF samples by providing a stable, clean, and turbulence-free atmosphere with a constant temperature and controlled levels of CO2 and O2. This incubator is thus designed to protect IVF samples from particle contaminants and non-optimal growth conditions.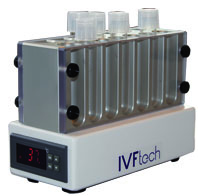 The IVFtech tube warmer fits 12 test tubes 14ml. The temperature is easy to change which allow easier operations. The sides of the tube warmer are removable for easy cleaning. The aluminum block covers 2/3 of the tube which gives better uniform heat to the tubes.
The IVFtech Hotplate is the perfect solution for the IVF-lab that is in need of an extra heated workspaces, but don't have the need for an extra workbench. The Hotplate provides a uniform self-contained tabletop for handling of warming block, Mini-incubators, tubes ect and due to its small form factor, can be used as a portable for various placement around the IVFlab.
Please contact us anytime
+(45) 3940 2565